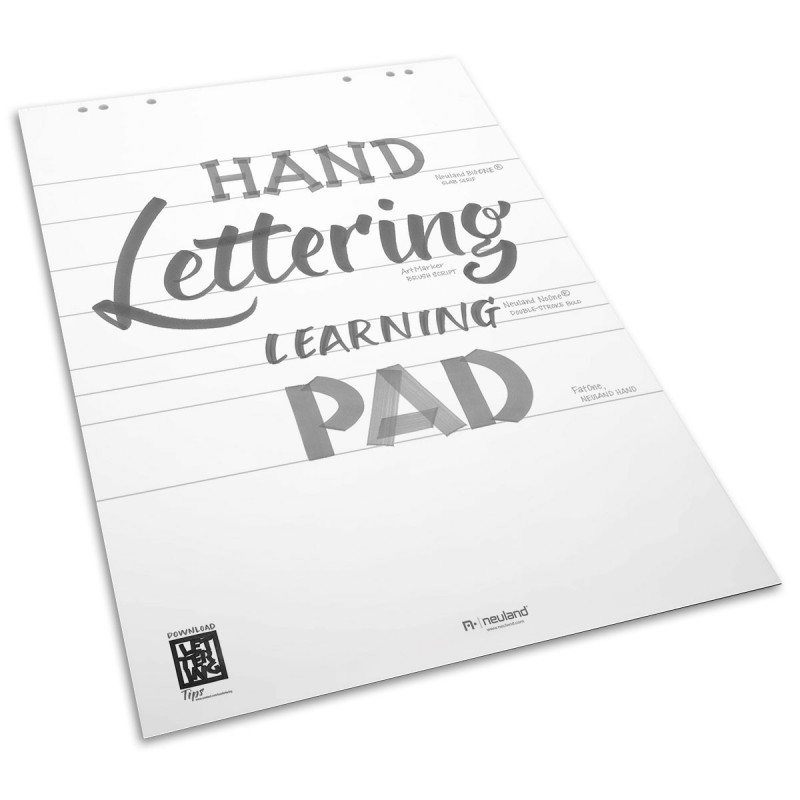  
Handlettering Learning Pad
SKU: 8107.0020
Flipchart paper pad with 25 sheets, printed with water-marked lines and examples to practice your writing skills on headlines, text, and calligraphy.
Writing neatly on the flip chart? Here comes the solution!
When it comes to writing neatly in large letters, it's just like many other things: Practice makes perfect! In order to make practicing a piece of cake that doesn't require much preparation, we've worked together with the American Heather Martinez to develop a pad for lettering practicing that has the right pre-printed lines for the three common Neuland® marker types: titles with the BigOne; running text with the No.One, and calligraphic accents with the ArtMarker. Your best bet is to order the right markers along with it!
Specifications: Flipchart paper pad with 25 sheets: 10 sheets for headlines (Neuland BigOne®), 10 sheets for Text (Neuland No.One®) and 5 sheets for calligraphy (Neuland No.One® Art). Size: 68 x 98 cm (26.5 x 39 inches) with universal hole perforations at the top Paper: 80 g/sq m, offset white paper with print on the front
In addition, so that you can get started straight away, you can download a free guide in pdf format at www.neuland.com/en/handlettering . When you print out the pdf, the first four pages are in English. Pages 5-8 are in German.